If you met your ideal match while online dating, just before the coronavirus (COVID-19) lockdown hit, this one's for you!
I can't begin to understand how frustrating it must be to have to wait for your first date in-person with your perfect match.
You'd already smashed it in terms of attracting them to your profile with eye-catching dating profile photos, engaging in conversation and by discussing your first date.
And then BOOM!
Lockdown.
You're confined to your home, except for essential trips out for food or exercise.
I bet you were bouncing around some unique and fun ideas for your first date, right?
You were both trying to think outside the box (sorry for the cliche) and come up with ideas that might impress your date, rather than going for a standard drink in the pub?
You might have been planning:
Sadly, these kind of dates can't happen for a while and who knows when we'll be able to.
Will social distancing become the new normal?
Date ideas during lockdown
Just because you can't physically meet up with your date, doesn't mean you can't enjoy their company.
We Just Clicked have compiled a handful of ideas to help you date during lockdown.
Have a video call with your date
This might sound obvious given that many of use regularly have online video calls anyway, but some people think you must give your phone number out in order to have a video call.
Many dating apps now allow the use of video, so if you're not using one that does, we highly recommend checking out Cosmopolitan's blog on video dating apps.
Each take it in turns to recommend a daily workout and exercise together over What's App. >There are some great Zumba classes on YouTube, for example.
It'd also be nice to share your daily walk together. A video call or phone call and a nice long chat. Speak about things you see along your route. Switch between your forward and rear facing cameras so your date can benefit from what you're seeing on your walk. 
You can also use apps like Strava to keep track of your progress.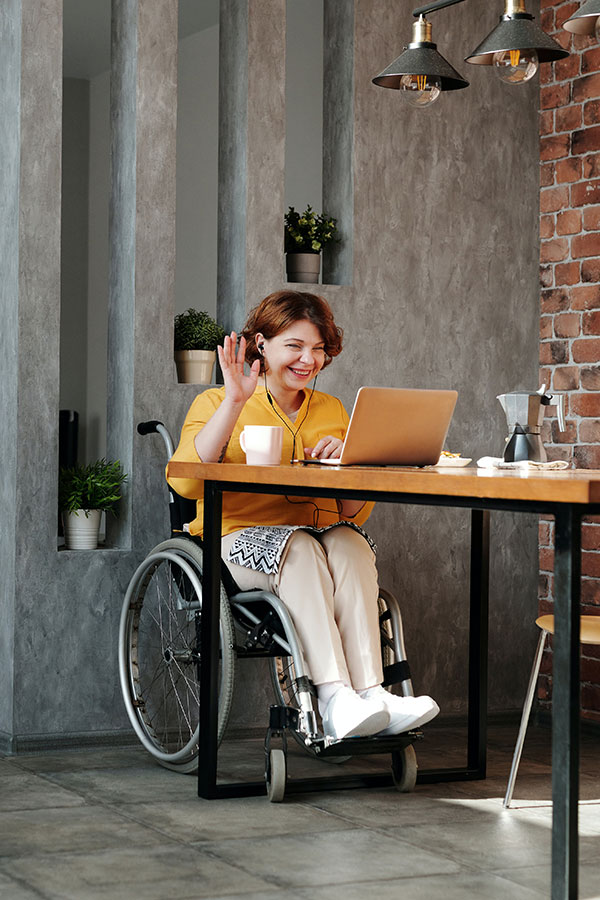 Cook (or order-in) and eat together
You've probably already chatted about the kind of foods you enjoy, and your favourite restaurants?
One of you choose a recipe or make one up. Plan ahead and buy the same ingredients for a recipe you've already agreed upon. Don't go wrecking your phone with flirty food fights though. After all the hard work, get comfortable and enjoy your meal together as you continue your video call.
If cooking isn't your thing, order your date surprise takeaway to their door! Did somebody say, "Just Eat?"
Why not take it in turns to choose a recipe each week?
Watch the same thing together – Gogglebox style!
Rather than boxset cheat, agree a staple series and binge watch together. Here a few suggestions to get you started:
If you're lucky enough to own a VR headset, you should look into the different virtual reality experiences you can enjoy together. If you don't have a full on headset, don't forget you can pick a Google Cardboard up for next to nothing or get creative and make your own.
There are a wealth of VR experiences, including:
Ocean Rift – explore underwater habitats
Fulldive VR – a social all-in-one platform
Melody VR – big stage concerts and secret sessions
There's even virtual porn if you're feeling really adventurous
You can't beat a good game of I Spy. Ok, so maybe this suggestion is a little silly but you'd be surprised at the fun you could have with it.
Get your forward facing camera on and away you go.
I Spy with my little eye…
Play an online game together
Where to start? There are oodles of game apps that you can play together.
Online quizzes are pretty popular at the moment and Eventures seem to have a different one each week, not only that, they've also raised over £129,000 for the NHS in the process. Kudos!
Try your hand at Quick Draw, by Google, where you have to draw things, like a pear, or a wardrobe and your date has to guess what it is. It's good fun.
And then there's classics, like Scrabble.
Share your lockdown dates with us
Embrace online dating like you've never embraced it before. Don't wait around until lockdown has lifted. Suggest one of the above ideas to your date and enjoy.
Why not share your online date with us on Instagram using the hashtag #ouronlinedate
Happy Dating!